Si descargar comics no olvides registrarte
Comics Gratis
Los mejores comics para descargar gratis
Descarga de comics. Todos los mejores comics para descargar y poder leer en tu computadora. Bajar warez.
Predicador – Serie Completa en Español Incluye Especiales
Predicador es un cómic de difícil calificación, una "road movie" con toques fantástico-sobrenaturales desarrollado en clave de "western" contemporáneo.
Hijo de la cópula de un ángel y un demonio, Génesis es una entidad probablemente tan poderosa como el mismo Dios. Asustado -o por cualquier otro motivo, al fin y al cabo sus designios son inescrutables- por esta nueva idea, Dios abandona su posición en el Cielo y se esconde en paradero desconocido en el mundo. Génesis entra en el cuerpo de Jesse Custer, el poco convencional pastor de la pequeña población de Annville, dotándole de "La Palabra de Dios", el poder de hacer que todos los que le entiendan obedezcan sus órdenes. Jesse, con el conocimiento y habilidades que le proporciona Génesis, emprenderá la búsqueda de Dios para pedirle explicaciones por su abandono, y en su camino le acompañarán su ex-novia Tulip, habilidosa con las armas y con un pasado misterioso, y Cassidy, un vampiro irlandés borrachín con otro pasado misterioso que se convertirá en su mejor amigo. Buscando también a Dios está el Santo de los Asesinos, un cruce de Clint Eastwood y Lee Marvin salido de los infiernos que sólo cumple la misión de exterminar a todo ser viviente (y al que también se le ha encargado que acabe con Génesis, o lo que es lo mismo, con Jesse, nuestro protagonista), y el Grial, una poderosísima organización manipulada por el maquiavélico Starr, tal vez el villano que más sufrimiento ha padecido en la historia de la infamia.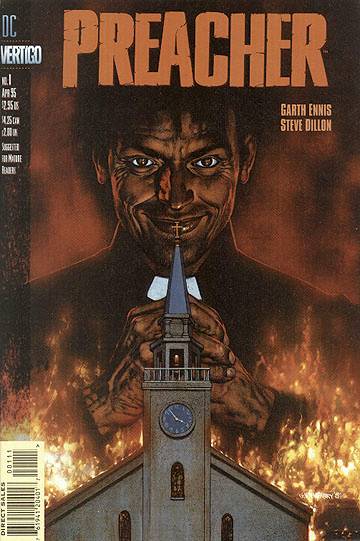 Y para finalizar, también persiguendo a nuestro protagonista está Caraculo, un patético adolescente no demasiado espabilado que intentó suicidarse emulando a su ídolo, Kurt Cobain, pero el pobre imbécil se destrozó brutalmente la cara (de ahí su apodo) y que busca vengarse por algo que Jesse le hizo a su padre en los primeros números de la serie; a lo largo de la serie aparecerá varias veces como contrapunto cómico. Las idas y venidas de unos y otros, sus violentos encuentros y desencuentros y el siempre impredecible desarrollo de sus relaciones -al tiempo que vamos conociendo sus secretos y pasado- conducen Predicador hacia su inevitable final.
Descarga comics gratis. Download comics gratis. Comics de Batman the dark knight comics de The avengers los vengadores comics de Superman y todos los comics de DC Comics y Marvel.